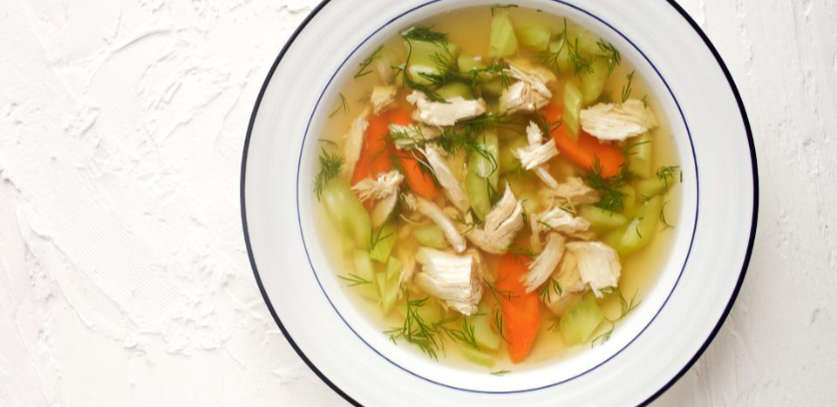 18 Mar
Need Healing? Chicken Soup, A Universal Remedy
Did you know that chicken soup can help a sore back? That's what I learned recently from our middle-aged mustachioed postman, after he dropped ten massive boxes in front of our building in New York.
Turns out the healing role of poultry broth was first recorded in Huang Di Nei Jing, a Chinese medicine treatise written during the second century BCE. In the 1100s, Moses Maimonides, a Spanish philosopher and physician, prescribed it to "The weak and sick," as told by author Gil Marks in his fascinating Encyclopedia of Jewish Food. The soup then became a staple of Jewish Sephardim cuisine in the early medieval time and landed on Ashkenazi Friday night tables around the 15th century.
"Today, most cultures eat some kind of chicken soup," said chef and author Jenn Louis, whose Chicken Soup Manifesto, Recipes from around the World (Hardie Grant Publishing) will be released later this year. Ms. Louis' obsession started in 2016 when she came home sick after a trip only to discover her sister had left a pot of chicken soup on her doorstep.
"I gulped down three bowls and immediately started to feel better," she said from her home base in Portland, OR.
Research showed there were myriads of chicken soup: "Regional, cultural, seasonal; from North Africa to South America and the rice-based Asian soups." All in all, Ms. Louis's book will feature 130 recipes.
It was time to reach out to a modern physician, so I called Dr. Keith Berkowitz, Founder and Medical Director of the Center for Balanced Health in New York, who brings a holistic approach to traditional medicine.
"Growing up," he said, "Grandma Mimi's chicken soup was a requirement on Friday night. It's the taste of childhood, but it's also way more than that."
First, Dr. Berkowitz explains that this salted liquid provides one of the best ways to hydrate. The clear soup is very easy to digest and an efficient source of nutrition at the same time. Thanks to carnosine, chicken soup is also an anti-inflammatory, helping fight infections. The cysteine in the chicken also acts as an anti-mucus and opens up the nasal passages for better breathing.
Grandma Mimi's version included celery, carrots, onions and parsnips, all anti-microbial vegetables.
"Unless you're allergic to salt," said Dr. Berkowitz, "There are no side effects! Once a day is great and if you're sick, three times is best."
While we wait for the release of The Chicken Soup Manifesto, let's turn to Sababa: Fresh, Sunny Flavors from my Israeli Kitchen (Avery) by author, chef and recipe tester Adeena Sussman.
"After my mother passed away," she said, "I dug into her recipes," One of them, of course, was chicken soup."
Chicken soup, to Ms. Sussman, evokes family, satisfaction, and emotion. Her late mother's recipe called for a 12-hour cooking stretch over a low flame. Now that the author is living in a Yemenite neighborhood of Tel Aviv, she often adds hawaij, a Yemenite spice blend made with turmeric, cumin, cardamom, dry coriander and pepper.
Almost by miracle, the meat retains both taste and texture. And if you believe it, it will heal your back too.
Overnight Chicken Soup (with a Yemenite Option)
(Recipe reprinted permission Avery Books)
This is the way my late mom, Steffi, used to cook her chicken soup: overnight for at least 12 hours, sometimes longer, until the soup turned golden, rich, and gorgeous. The chicken, wrapped in cheesecloth, gives everything it has to the soup. It defies logic, but the meat, and even the whole vegetables that simmer alongside it, emerge in shockingly good shape. Since we kept the Sabbath and had a low flame on our stove for warming food, the idea of going to sleep with a soup simmering away gives me great comfort; if it doesn't inspire the same feelings in you (no judgment), start the soup early in the morning, turn it off before you go to bed, then let it cool overnight on the stovetop before refrigerating. Since Yemenite hawaiij improves everything, I give you the option to add some in the last few hours of cooking; it will lend the most wondrous mildly spicy flavor and sunshiny hue to your broth.
Serves 10 to 12
Active Time: 10 minutes
Total Time: About 13 hours
1 whole 3- to 4½-pound chicken*
6 medium carrots, trimmed and peeled
3 large celery stalks, halved lengthwise
2 medium onions, peeled but left whole
1 medium parsnip, trimmed and peeled
1 medium turnip, trimmed and peeled
3 garlic cloves
1 whole bunch fresh dill, tied into a bundle with kitchen twine
1 tablespoon kosher salt
2 tablespoons Hawaiij (available at nyshuk.com)
One 1-inch piece peeled ginger root (optional)
In a very large (at least 8-quart) stockpot*, arrange a large, overhanging double layer of cheesecloth. Place the chicken in the center of the cheesecloth and tie the cheesecloth into a knot so the chicken is totally enclosed. Add the carrots, celery, onion, parsnip, turnip, and garlic, cover with 3 inches of cold water, bring to a vigorous boil over high heat, and boil, skimming and discarding any scum, 15 to 20 minutes. Reduce the heat to a simmer, add the dill, and cook, checking every so often that the soup is moving with very small bubbles—almost like a tide washing in—but not boiling. After about 2 hours, add the salt. It should taste delicious and salty, like soup should taste. Cover with a tight-fitting lid and cook for a total of 12 hours, either a whole waking day or overnight. Occasionally, skim off the fat from the top (it's easy to do when the flame is so low; the fat pools on the top). Put that fat and broth with it in a bowl in the fridge; when it hardens, tip the bowl back into the soup; the broth slips out from underneath the disc of fat, which I use as schmaltz (chicken fat) in recipes like Medjool Date Gondi (page 167). If you're going Yemenite, add the hawaiij and ginger 2 hours before you're done cooking the soup. When ready to serve, remove and discard the dill. Remove the chicken to a bowl, cut the cheesecloth open to help it cool, then tip any broth back into the soup. Strip off and discard the skin and cheesecloth. Take all the meat off the bones. Discard the bones. Portion the meat out into bowls with the broth and vegetables (leave them whole, or cut them into large pieces if you like). Season with more salt if needed.
*If you don't have an 8-quart pot, use a 6-quart pot. Start with a 3-pound chicken and use 2 carrots, 1 celery stalk, and 1 medium onion.
*Original article posted on Forbes.com - March, 18, 2020